In terms of how active it is, Klyuchevskaya Sopka is second only to Kīlauea. In the past 300 years there have been over 50 eruptions out of Klyuchevskaya Sopka and discharges of ash are so common that nobody is surprised by these. Thus in 2005, in a spectacular display of its power, Klyuchevskaya Sopka spewed ash to an altitude of 5 km. There are plumes of ash, smoke, vapour and gas constantly hanging over the mountain. You don't want to rush up there: even seasoned mountaineers don't always manage to complete the ascent.
If you want to do a standard ascent up a mountain, the neighbouring Bezimyanny ("No-name") volcano is much better. It's significantly smaller and from its sides you can get a stunning view of Klyuchevskaya Sopka as well as of the other 12 volcanoes of the Klyuchevskaya group, Russia's largest group of volcanoes and one of the largest in the world.
If you leave the capital and head south on the peninsula, you will get to see the most photogenic volcano: Bakening. What makes the view so stunning is that there are six mountain lakes under its slopes. The grand extinct volcano is reflected in the clear water of the lakes like in a mirror and that creates a stunning view. Bakening Volcano can be reached by crossing the territory of the Timonovsky nature reserve.
There are about 30 active and over 160 extinct volcanoes in Kamchatka.

Ichinsky is the fifth highest volcano in Kamchatka. It's been dormant since 1740, only occasionally spewing out plumes of water vapour and gases. In the centuries that have passed without an eruption, a forest has grown up on its sides where you can now find almost all species of birds and animals found in Kamchatka. Reindeer and argali mountain sheep live side by side here, and the place is literally crawling with sables. The volcano is covered in glaciers, and its slopes are dangerous so people are advised against attempting to ascend it unless they have special training and equipment.
Koryaksky is a Mecca for mountaineers. Hundreds of extreme mountaineers come to these steep slopes which are impossible to climb without special equipment. By contrast, any casual tourist who is fit enough can go all the way to the top of Avachinsky in a single day. It's a taxing trip, but totally worth it. from the top you get a fantastic view of the neighbouring mountains, Petropavlovsk-Kamchatsky and the ocean. And Gorely is a family-friendly volcano that even kids can ascend with little difficulty: it's fairly low and because of its elongated shape it looks like a mountain range rather than a mountain. However, looks can be deceiving. Once you get to the top, it becomes crystal clear: this is a real volcano with fumarole fields, craters and lakes in which water has all kinds of the most unusual hues.
It only takes about three hours to get to the top of the ancient Mutnovskiy volcano, one of the most active in Kamchatka. It's got four craters, each up to 2 km in diameter. The biggest and most beautiful one is found at an altitude of just 1,600 metres, a little higher than the middle of the slope, so you don't have to go all the way to the top to see it. And after the relatively easy ascent, you can regain your strength at the foot of Skalistaya Sopka nearby, the site of the Dachnye Hot Springs, which are often referred to as the Little Valley of Geysers. Jets of hot gas burst out of the ground surrounded by volcanic sulfur crystals, and there are boiling lakes and warm ponds here: you can literally hear the earth breathe in this place. And you can also take in the 80-metre tall waterfall on the Vulkannoy ("Volcanic") river and the deep Opasniy ("Dangerous") canyon.

Geologists love to visit the extinct Kozelsky volcano on whose sides a deposit of an extremely rare mineral was found; this mineral can only be found in a handful of spots on the planet and in very small quantities. It's called carbonado and is also sometimes referred to as a "black diamond". Scientists used to think this mineral came to Earth from space and that it formed as a result of a supernova explosion. However, the deposit found in Kamchatka upended that theory, proving that after all, it is of terrestrial origin. By the way, downhill skiers and snow board aficionados continue to practice on Kozelsky volcano all year around as the snow on its sides practically never melts.
The Plosky Tolbachik volcano is perhaps the most mysterious of all the volcanoes in Kamchatka; its slopes look as if they'd been drawn by a sci-fi fan. Back in the days, the first Soviet moon rovers were tested there. Tolbachik last erupted in 2012, and it came as a complete surprise: at an altitude of about 1,800 metres two cracks appeared out of which numerous jets of hot material shot up to a height of up to 250 metres. There appeared columns of steam, gas and ash all around the fiery cracks; these rose up to a height of 6 km. From the centre, there poured powerful flows of lava that covered several kilometres. Trees were crushed under the weight and devoured by the lava. At the time, the temperature was –35 °C, but over the lava flow it was as hot as in a sauna. To see the result of this grandiose natural phenomenon, you take a fairly simply trail and in order to get to the top you're going to need about 6-8 hours. There, you will learn how to cook dinner using volcanic heat. As for Ostry Tolbachik, only professional mountain climbers with special equipment are allowed to climb it.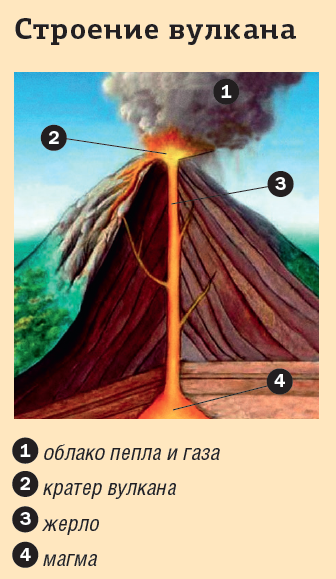 SHARE
Almost all the mountains of the peninsula are located within the territory of the Volcanoes of Kamchatka national park that comprises five territories:
Nalychevo Nature Park
South Kamchatka Nature Park
Bystrinsky Nature Park
Klyuchevskoy Nature Park
Kol River Reserve